I'm so entirely behind on blogging the Best Picture films that I've watched that I think I'll just do a little omnibus entry for all of the ones I've watched so that I can catch up. I've stopped watching films, because I didn't want to get any further behind on the blogging, and it seems silly to let a thing like blogging interfere with what I want to do in my life. So here goes:
#7: It Happened One Night (1934):
Winner, Best Picture, 1934
Watched on: 11/7/2008
This was the first year that the Academy Awards switched to a calendar-year time period, and coincidentally, this was the first of the Academy Award winning Best Picture films that I'd actually seen before.
It Happened One Night
is simply put a delightful, lovely film -- I thought that the first time I saw it, and I think that still. And I'm not alone in that opinion -- as Filmsite points out, it was the first film to win all of the top five awards, Best Picture, Best Director, Best Actor, Best Actress, and Best Adaptation, a feat not repeated until 1975 with
One Flew Over the Cuckoo's Nest
, and I think they also very rightly describe it as one of the best romantic comedies ever. Since I'm writing about a lot of films here, I'm going to keep it short and sweet and just give my general impressions. I love
It Happened One Night
. If you haven't seen it, you should. I could watch
it
over and over again. Because of its enduring popularity, it's really easy to catch it on TV as well -- I see from that last link that it's scheduled to play on TCM at least three times in the near future.
#8: Mutiny on the Bounty (1935):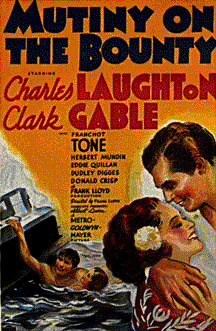 Winner, Best Picture, 1935
Watched on: 11/7/2008
As much as I loved
It Happened One Night
and Clark Gable in it, he couldn't save
Mutiny on the Bounty
for me. My friend Erika and I did a little movie marathon back in November over the course of two days, in which we watched
It Happened One Night
,
Mutiny on the Bounty
, and
The Great Ziegfeld
, in that order. When
Mutiny on the Bounty
had ended, we both heaved a sigh of relief, and I turned to her and said, "Whew. We did it." Particularly on the heels of the light, screwball romantic comedy,
MotB
seemed particularly long, tedious, and painful. It may be, in the words of Filmsite, one of the best nautical adventure films of all time, but I guess I can just say then that nautical adventure films are just not my thing. Since I didn't much like it, I'm not going to spend a lot of time writing much more about it. But it is worth going to those links above to read some more about. It was an expensive film to make, and was interstingly shot on location in the South Seas for authenticity sake, which I thought was an unusual and nice choice for a film of its time.
#9: The Great Ziegfeld (1936)
Winner, Best Picture, 1936
Watched on: 11/8/2008
What a stunningly different film this was from
Mutiny on the Bounty
, and how odd to watch them one after another.
The Great Ziegfeld
can very rightly be described as lavish. It's one of the first words that springs to mind when watching the elaborate stage scenes, and it seems to be one of the most common words found anywhere when describing it. It was even lavish in length -- three hours. There is criticism to be found online about this film winning -- Filmsite indicates that there were at least three far superior films that should have beat out
The Great Ziegfeld
. But no matter to me, anyway -- it was a heckuva lot of fun checking out the crazy costumes and massive headdresses and the singing and performing, and watching the biopic of Ziegfeld's life along with it. It may not have been the best film, but it's pretty darn entertaining.
#10: The Life of Emile Zola (1937)
Winner, Best Picture, 1937
Watched on: 1/10/2009
Well, now here's a film that I probably never would have watched had I not been watching all of these Best Picture films, but which I thoroughly enjoyed all the same. That really is one of the nice side-effects of this project. I end up watching things that I wouldn't choose for myself and thus broadening my horizons a little bit.
The Life of Emile Zola
is a film about justice, and one man's dedication to it. Yet another biopic (these were so popular in the 30s, who knew?), if follows the life and writing career of Emile Zola, and focuses on the historically important Dreyfus Affair, in which he fought to free the wrongfully imprisoned Captain Dreyfus, a victim of anti-Semitic framing within the French army in the 1800s. I think this film doesn't seem to be very popular any more -- it's not scheduled to be played on
TCM
anytime soon, for example -- but it was worth seeing. I found it very engaging, and I always do enjoy a film in which justice prevails. Who wouldn't, especially in a world where it doesn't always?
#11: You Can't Take It With You (1938)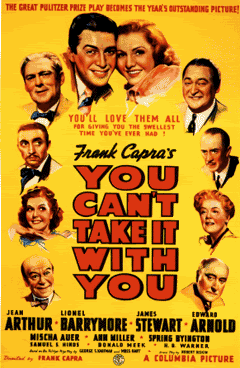 Winner, Best Picture, 1938
Watched on: 1/18/2009
I was quite certain that I had seen
You Can't Take it With You
before -- and I was also quite wrong. Still, even though it wasn't the film that I thought it was (wonder what that was? who knows...)
You Can't Take It With You
was a relatively amusing film -- and of course, it's actually somewhat unusual for a comedy to have won Best Picture, as that remains the exception rather than the rule in Oscar history overall. It's the story of a prominent banker's son who falls for his spunky secretary, and the hilarity that ensues when he meets her highly eccentric family, and even worse, his snobbish parents meet her highly eccentric family. Jimmy Stewart gave a particularly enjoyable and rather signature performance as the banker's son. Even if the whole thing gets predictably wrapped up in a shiny bow at the end, I think we can all use a feel-good movie in which everyone learns the lessons they should in the end, and I especially enjoyed the fact that this movie really embraces people's wild diversity.
And with that -- I am caught up. Now I can move on to 1939 -
Gone With the Wind
-- which happens to be the second of the Best Picture films that I had seen previous to starting this Oscarfest.