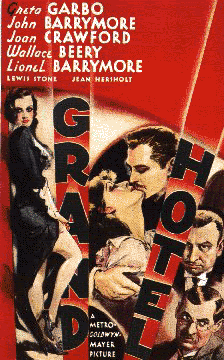 Winner, Best Picture, 1931/1932 Academy Awards Ceremony
Now we're talking! Great actors and actresses, intertwining plot lines, love, intrigues, stereotypes that aren't quite stereotypes, a sumptuous Art Deco set...now this is my kind of movie.
I just finished watching it, and honestly, I'm not sure that there's much to actually say about this film. It's more something to simply be watched and enjoyed. And I did -- I enjoyed it very much. Even with Greta Garbo's sort of weird acting, which might have been good, though it was hard to tell, what with all that throwing her head back all the time. If you ask me, Joan Crawford seriously steals the show. But perhaps I'm in a minority, as I found numerous reviewers online who thought Garbo was magnificent. There's certainly something about her, because I can't quite say I found her terrible, but she was unusual anyway.
At any rate, rather than force some sort of review that I'm just not feeling is forthcoming, I'll just suggest that if you're interested, you can rent it from
Netflix
, and read about it on
IMDB
,
TCM
,
The Greatest Films
, or
Wikipedia
. Beware, though -- as with all of the reviews and links I post for movies, you're bound to find spoilers there if you're intent on being spoiler-free. Oh, and I noticed on that TCM link that they will also be playing it in both November and December. (TCM has a great feature where you can sign up for them to e-mail you a reminder of when a particular film is going to be on.)
Rent this movie, watch it, enjoy it. It's not going to change your life, and probably won't become your favorite movie ever, but it's just plain entertaining.