I am going to interrupt my irregular, seldom-scheduled blogging about Academy Award winning films to blog about some other films that I'm watching, because I feel like it. Yes, I'm allowed to undermine the theme of my own blog, right?
It's that time of year again --
Sundance
kicked off Thursday night, and though I have never actually attended any Sundance films in Park City (which is weird, but true -- I've just always wanted to avoid the zoo), I have the luxury of living in Ogden on my side, which is home to one of the most beautiful movie theaters there is (
Peery's Egyptian Theater
). For the last 12 years, the Egyptian has been used as a Sundance venue as well. The wonderful things about this include the fact that it's a pretty big theater compared to many used for Sundance (seats around 800), they give locals first dibs on Sundance tickets anyway, and even after that, the Ogden showings take a little while to fill up -- if they do fill up. And so it's easy to get tons of tickets to see amazing films every year right here in my little town, sometimes even premieres, or at least films where they bring in the writers or directors or producers or even some of the stars or documentary subjects to talk about the films before they start, or have Q&A sessions afterward. This year I have tickets to ten films between January 16th and 27th -- so I figured I'd try to blog about them here.
(I haven't blogged Best Picture films for a long time, although I watched
It Happened One Night
,
Mutiny on the Bounty
, and
The Great Ziegfeld
at the beginning of November, and then I watched
The Life of Emile Zola
last week. I'm sure I'll catch up one of these days...)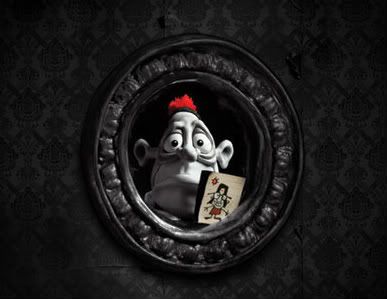 So last night Charlie and I went to see our first Sundance film this year, an incredible film called
Mary and Max
. It was actually the film chosen to kick off the entire festival in Park City the night before, and I loved it. It's a stop animation or claymation film made by independent Australian filmmaker Adam Elliot (he as the writer/director and his producer Melanie Coombs were there to talk about it, and they were fantastic -- they said all filmmakers in Australia are independent, and the filmmaking community there is relatively small and doesn't have a lot of funding.)
I would have to say first of all that, though I only started attending Sundance within the last couple years,
Mary and Max
is my absolute favorite Sundance film I've seen so far. If you're reading this review, you should definitely click on that last link and visit their film website to get a feel for what the film is like. And if you get the chance to go see it in the theater, you should go. If you don't get that chance, then you should definitely rent it on DVD. The film was engrossing from the very opening shots. It's an entirely "in camera" animation -- no computer tricks, just five years of work, including over one year of filming at a rate of 4 seconds per animator per day, everything created with painstaking and loving attention to quirky detail, from the individual drops of water created using what amounted to cases of water-based sexual lubricant (!) to the plasticine model working typewriter. The musical score and the tonal color palettes give the movie a very unique mood and feel -- it isn't a happy, animated kids' fluff project, it's a poignant film for adults that makes you laugh, makes you uncomfortable at times, makes you cry, and just generally explores human imperfection, friendship, and acceptance. The basic premise starts off with a lonely, ostracized eight-year-old girl, Mary Dinkle, who lives in Australia, and who one day rips a corner out of a New York City phonebook and starts up a pen friendship by writing a letter to a complete stranger. The stranger turns out to be Max Horovitz, a lonely, middle-aged Jewish man living in New York, who is equally friendless, obese, and struggling to live in a world he does not understand. The film follows the two through 20 years, as they exchange letters and their lives deeply affect one another despite their great distance and seeming disparity. Truly, the word poignant gets thrown around a lot in a rather meaningless way, but this film really earns it. It's the very best kind of story -- both touching and ridiculous, just like life itself, and when the credits roll, you feel like you actually understand life just a little bit more. I will add that it's so incredibly well done in every element that when the credits rolled, that was the first time I noticed or remembered throughout the entire course of the film that it was actually voiced by famous people with recognizable voices -- Toni Collette, Philip Seymour Hoffman, and Barry Humphries (i.e. Dame Edna!), to name a few. For the entire film, I was completely absorbed into the world that Elliot created -- usually in animated films, I am always very much aware of the actor behind the voice if it's someone well known -- and there are numerous examples, Eddie Murphy, Robin Williams, etc.
Mary and Max
is a film that deserves to be described as truly touching, and I only wish the word weren't so painfully overused and could really convey what I mean. I definitely want to see it again, and will likely buy it when it is released on DVD. I hope it gets picked up for a US release and that people will give it the chance it deserves, to quote the film, "warts and all."