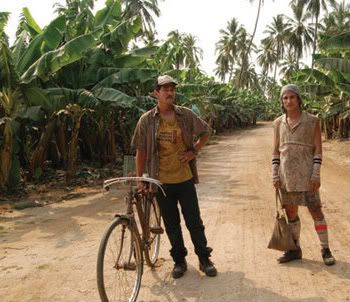 Sunday afternoon Charlie and I headed to Sundance again, this time to see a Mexican film,
Rudo y Cursi
.  It's a comedy about a couple of goofy brothers who work on a banana ranch in Mexico and get discovered by a soccer talent scout.  
This was a fun movie, and definitely worth a watch.  We chose it because we like Sundance, and also because we like soccer, though there was surprisingly little actual soccer action in it.  The crowd was more mixed than the usual Sundance crowds - it seemed to also attract some people for the soccer, and some for the Spanish language.  (I kept thinking that they might be disappointed at times, because I didn't think they had the sound up loud enough, and then the audience that was reading subtitles probably kept laughing over the spoken parts.)    
The description says something about how you can take the brothers off the banana ranch, but you may not be able to take thew banana ranch out of the brothers.  And that's actually pretty apt.  It's a funny story, and one that is interestingly told, but you really do end up caring for the characters and their fates.  I believe some of the actors are fairly well-known in Mexico, and I can see this film being a pretty big commercial success in Mexico at least, a place where football is king, footballers are like gods, and there are no doubt thousands of small-town football players with their own big-time dreams.
As an entertaining side-note, this post was written almost entirely while stopped at red lights.  How is that for multi-tasking?
As I'm finally finishing this up and adding a photo so that I can post, it's Tuesday now, and I have two more films to blog about already -- Monday night I saw
The Greatest
, and tonight I saw
Lulu und Jimi
. So more posts to come soon.